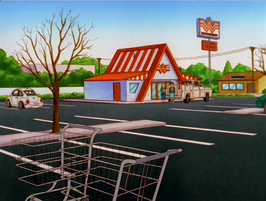 Whataburger 
is a fast-food restaurant in Arlen that specializes in hamburgers. The location has appeared in multiple episodes of King of the Hill. Whataburger is a real-life franchise that first opened in Corpus Christi, Texas in 1950.
Appearances
Aisle 8A 
In the episode Aisle 8A, Bobby is shown eating at this restaurant with his mother Peggy so she can explain to him Connie's situation with her period which he still doesn't completely understand.
Are You There, God? It's Me, Margaret Hill
In the episode Are You There, God? It's Me, Margaret Hill when Peggy couldn't find a full time teaching postion, she works with Hank at Strickland Propane, and they did a propane delivery to the restaurant where Peggy runs into a substitute teacher co-worker, Claire where she was going to an interview for a full time Spanish teacher position at a Catholic school next door, Saint Ignatius.
Orange You Sad I Did Say Banana?
In the episode Orange You Sad I Did Say Banana?, Whataburger was mentioned by Minh to Connie that they will go to Whataburger after Kahn leaves the house since they are not allowed to practice American culture since Kahn vows to return to their Laotian roots after being called a banana by Ted which mean he's too Americanized.
Cops and Robert
In the episode Cops and Robert the restaurant was a spot where Bobby and Officer Brown caught Clark Peters and Dooley was cutting class.
Father of the Bribe
In the episode Father of the Bribe, Kahn takes Bobby to eat at the restaurant to bribe and talk with him to break up with Connie.
Ad blocker interference detected!
Wikia is a free-to-use site that makes money from advertising. We have a modified experience for viewers using ad blockers

Wikia is not accessible if you've made further modifications. Remove the custom ad blocker rule(s) and the page will load as expected.