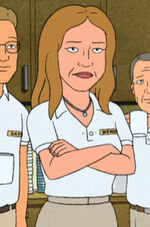 Wendy (Death Buys a Timeshare)
is a one time character who appears once in the episode
Death Buys a Timeshare
. She is voiced by Pamela Aldon.
Description
Wendy is one of the many sale representative at the O'Kelly Timeshare in mexico. She was asked by her boss Mitch to talk to Bill as she shown to be a attractive woman and is assign to make sure to get Bill to by a timeshare.
The Moment she talked Bill, he took out his credit card and handed it over to her, but as she swap his card and almost congratulate him, she discover his card been denied, and when Bill asked if she takes Blockbuster, she gave him a smug face, meaning no, but when Bill remember a card that had no credit limit, she smiled and attempt to swap it, only for Hank to take it and told him not to buy a timeshare.
She later appears again when she celebrate of Cotton buying a time-share.
Ad blocker interference detected!
Wikia is a free-to-use site that makes money from advertising. We have a modified experience for viewers using ad blockers

Wikia is not accessible if you've made further modifications. Remove the custom ad blocker rule(s) and the page will load as expected.