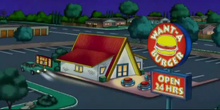 Want-A Burger is a fast food restaurant chain specializing in burgers. It operates a single location in Arlen, along with the similarly named Whataburger on which it is based. The drive-thru staff employed by the chain work from C.O.S. Communication Outsource Solutions, a call center in Buckeye, Arizona.
Appearances
Lucky See, Monkey Do
In the episodes "Lucky See, Monkey Do" Bill Dauterive orders from the drive-thru menu. Jane takes his order and Bill immediately develops an attraction to her because she called him 'honey'. He then rushes to the drive-thru order window hoping to see her only to find out that the drive-thru staff work from a call center in Buckeye, Arizona.
Bill then travels to Arizona to try and find her stopping at Want-A Burger locations along the way. He finds Jane but becomes jealous when she calls the customer behind him 'honey' as well. He makes his way to another Want-A Burger and tells her that he will come and see her. When he arrives at the call center he discovers that Jane is only seventeen and far too young. She also discovers that he is too old for her.