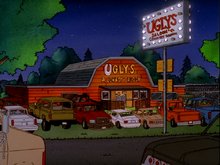 Ugly's Saloon is a cowboy saloon bar with entertainment such as cowboy dancing. According to the saloon's sign, on Tuesday they have an "All You Can Drink", and on Valentines Day, they have a two-step dancing competition. The saloon also has a souvenir shop.
Appearances
Luanne's Saga
In the episode Luanne's Saga, after Luanne's boyfriend Buckley breaks up with her, Hank, Peggy, Boomhauer, Bill, Dale, and Nancy all go to the saloon where Hank will try to find Luanne a new boyfriend. John Redcorn also appears in the saloon where he buys Dale a beer, and asks him if he can dance with Nancy which they do. Hank also tells Bill to dance with Peggy to keep Peggy distracted, and Bill has a hard time keeping up with Peggy in the dance floor, and sweated a lot when dancing with Peggy, and when Peggy sees Hank and asks Bill what he is doing, Bill spins Peggy into the souvenir shop. Hank then gets notices a shining light from a belt buckle, which he then meets Wade, a twenty year old whom Hank likes, and Hank tells Luanne to introduce herself. Hank and Peggy then leave the saloon, and when they get home, Buckley is their hoping to patch things up with Luanne, but Hank then sends him away. Later that night, Luanne returns home with Boomhauer, her new boyfriend which makes Hank horrorstruck.
Pretty, Pretty Dresses
Bill goes to the bar sadly while watching people dancing. When Bill sees the couple kissing, he sadly runs away to the middle of the road. Bill tried to get hit by a truck when it pulls over. Boomhauer stops Bill from running over on the middle of the road, offering Bill to go back in.
I'm With Cupid
In the episode I'm with Cupid, after leaving Bobby at home, Hank and Peggy go to the saloon for Valentines Day where they were having a two-step dancing competition which they compete every year, and doesn't want to lose two years in a row but they were told to clear the floor since they were eliminated, but when they got home, Hank tells Peggy even though they didn't win the contest, it was kind of romantic.
Dances With Dogs
In the episode Dances With Dogs, Hank and Peggy go dancing at the saloon where Hank tries to ask Peggy about Bobby's dance moves with Ladybird, and then Hank accidentally calls Peggy "Ladybird" which made her root for Bobby over Hank in the dog dancing competition.