Torch Song Hillogy
Season 6, Episode 7

'
Air date
February 24, 2002
Written by
Emily Spivey
Peter Jackson (live-action)
Directed by
Anthony Lioi
Peter Jackson (live-action)
Episode guide
Previous
I'm With Cupid
Next
Joust Like a Woman
Torch Song Hillogy is the one hundred-eleventh episode of King of the Hill. It was first aired on February 17, 2002. The episode was written by Emily Spivey, and directed by Anthony Lioi. The live action was written and directed by Peter Jackson.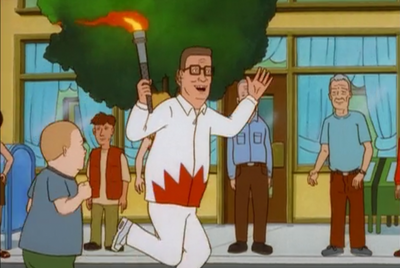 Synopsis
Peggy nominates Bobby to carry the 2002 Winter Olympic Torch through Arlen to make him feel good about himself. But it's Hank who wins the honor when Dale Bill and Boomhauer nominate him. Hank drops the torch and Bobby feels guilty about using a lighter to relight it. Bobby, and in a way Dale make up for this when they use the cigarrette Dale lit using the Olympic flame. The torch is lit.
Gallery
Goofs
Ad blocker interference detected!
Wikia is a free-to-use site that makes money from advertising. We have a modified experience for viewers using ad blockers

Wikia is not accessible if you've made further modifications. Remove the custom ad blocker rule(s) and the page will load as expected.