Tom Landry Middle School
is a middle school in Arlen, Texas that 
Bobby Hill
,
Connie Souphanousinphone
,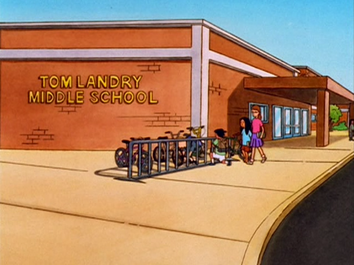 and
Joseph Gribble
 attend. Peggy Hill is a long time substitute teacher, and has won multiple "Substitute Teacher of the Year" awards. It is located in the Arlen Independent School District, though this was called the Heimlich County School District in earlier episodes. The current principal is
Carl Moss
, he was replaced with
Coach Kleehammer
briefly in "
No Bobby Left Behind
," due to the school having low test scores. The school is named after former Dallas Cowboys head coach Tom Landry.
Known Students
Amanda Garcia
Shelia Langley
Amy
Judy 
Tom
Sandy
Kerry Harris
Acne Pete
Sherice
Alejandro
Debbie Reid
Staff
Ad blocker interference detected!
Wikia is a free-to-use site that makes money from advertising. We have a modified experience for viewers using ad blockers

Wikia is not accessible if you've made further modifications. Remove the custom ad blocker rule(s) and the page will load as expected.