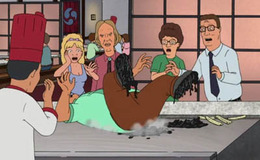 Tokyaki's is a Japanese restaurant located in Arlen. It is a teppanyaki style restaurant similar to the chain Benihana. It is shown in the episode Death Picks Cotton. 
Appearances
Death Picks Cotton
Hank, Peggy, Luanne, and Lucky were havinger at the restaurant, and after Bobby and Cotton were left home, they went to the restaurant where Cotton suffers a war flashback from the war he fought in Japan, who stands up on top of theer, and while the imp in the air, he chokes on that piece of shrimp, and slips on the teppanyaki grill, and gets hospitalized h the doctor states that he is allergic to shellfish which leads to an infection, and has third degree burns, and other problems where he eventually passes away. 
Ad blocker interference detected!
Wikia is a free-to-use site that makes money from advertising. We have a modified experience for viewers using ad blockers

Wikia is not accessible if you've made further modifications. Remove the custom ad blocker rule(s) and the page will load as expected.