The Petriot Act
Comments

0
771pages on
this wiki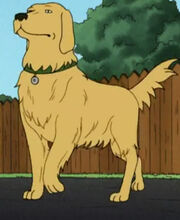 The Petriot Act
is the one hundred-seventy-seventh episode of King of the Hill. It was first aired on February 13, 2005. The episode was written by
Christy Stratton
, and directed by
Robin Brigstocke
.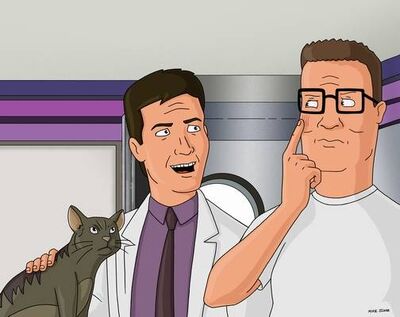 Synopsis
Edit
In the alley, Hank tells the others about an upcoming vacation. Then, Bill arrives in the alley with Buster, a talented golden retriever. Bill explains how civilians and Army members can take in soldier's pets while they are on active duty. A joyful Hank explains to Peggy and Bobby about the program and Peggy lets it happen, just so long as it does not bungle the vacation. Hank is told he will be given a pet named "Duke". Hank proudly waits for the day Duke will arrive and the day finally comes. Two soldiers place a kennel in front of Hank and for a short period, nothing comes out. Suddenly Duke bursts out, revealing that he is not a noble dog, but a cat. The cat viciously hisses and attempts to attack everyone until it races back into the kennel. Dismayed, Hank claims they can board Duke up along with Ladybird, But Duke has too much stuff to be boarded with. Duke makes the Hill's life a living hell by vomiting on the table, crathing Hank's face and defecating in his shoes. Buster, on the other hand, amazes Bill with his fetching abilites, fetching him cold beers and helping him get a woman's number. Duke also begins to dry up the vacation money as Hank is swayed to buy expensive cat food and tests by Dr. Leslie, Duke's vet. Even though Duke's tests are normal, Dr. Leslie exploits the situation more and more. After more expensive tests and buying Duke a wheelchair, Peggy suggests taking Duke to Dr.Yandell for a second opinion. Dr. Yandell respects Dr. Leslie, but claims Duke is normal and the tests are to justify the price of expensive machines. A salesmen from earlier explains to Hank that Dr. Leslie is missing a machine so expensive, no clinic can make money off it. Armed with a brochure on the machine, Hank blackmails the vet into signing Duke's bill of health. With drained finances, the Hills settle for a rib joint, but they are happy to be rid of Duke. Meanwhile, Bill returns Buster on an aircraft carrier and the crew gives him a massive salute and welcome. The owner, a Blue Angels pilot, gives Bill a ride home in one of the jets.
In this episode Hank has spent $3,756.00 on Duke.
In this episode, while taking care of Duke made the Hills miserable, taking care of Buster actualy made Bill's like great.