The Miseducation of Bobby Hill is the one hundred-forty-second episode of King of the Hill. It was first aired on March 16, 2003. The episode was written by Tim Croston and Chip Hall, and directed by Tricia Garcia.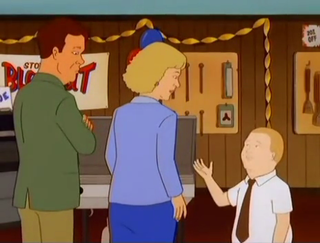 Synopsis
Bobby becomes a salesman at Strickland Propane. Instead of informing customers about the grill and how to safely and properly use it, he instead uses Joe Jack's way by entertaining and humorously encouraging the customer to buy propane tanks. Bobby briefly finds success this way and even beats the record of most sold propane tanks, previously held by Hank Hill. However, the plan backfires and Bobby receives dozens of complaints from angry customers, leaving it up to Hank to solve the problem, which he does, reclaiming the record in the process.
Elsewhere, Bill goes on terrifying flight in a lawn chair with weather balloons after Dale fails to prevent his escape.
Trivia
The title of the episode is a reference to the 1998 album by Lauryn Hill called "The Miseducation of Lauryn Hill."
Gallery
Ad blocker interference detected!
Wikia is a free-to-use site that makes money from advertising. We have a modified experience for viewers using ad blockers

Wikia is not accessible if you've made further modifications. Remove the custom ad blocker rule(s) and the page will load as expected.