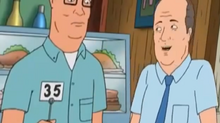 The Arlen Barn is a fast-casual style restaurant serving sandwiches located in Arlen which is located in former polygamist compound. It appeared in Uncool Customer where Hank finds out about this restaurant from the newspaper which he mentions that the polygamist compound is now a restaurant. The restaurant is a fast-casual style restaurant where you first order at the counter, then you get a number, and sit at an open table or chair. The meatloaf sandwich is the most familiar sandwich on the menu as it was the sandwich that Hank orders, and comes back for it occasionally during the episode.
Appearances
Uncool Customer
Hank discovers this restaurant from reading the newspaper which he mentions that the polygamist compound is now a restaurant. When Hank visits, he asks the manager where he can sit, and that he can sit anywhere there is an open chair or table, which he points him out to the big table where different people who are not together are seated. He orders the meatloaf sandwich, and despite sitting at the big table with strangers, the meatloaf sandwich is still the best meal he had in years as he said to the restaurant's manager. The next time he visited the restaurant, he took Dale, Bill, and Boomhauer with him to eat to accompany him, and they fight for a table in the restaurant. Next time he visits the restaurant, he orders the sandwich to go, then tells him to sit in the big table, which he refuses and leaves. In the end of the episode, Octavio pulls in to Hank's house to give him the sandwich; Hank probably told Octavio to get him the sandwich, so he can avoid sitting in that big table. He appears to have paid around $40.00 for this favor. He accepts the sandwich even though Octavio had taken a bite out of it.
Ad blocker interference detected!
Wikia is a free-to-use site that makes money from advertising. We have a modified experience for viewers using ad blockers

Wikia is not accessible if you've made further modifications. Remove the custom ad blocker rule(s) and the page will load as expected.