Tammi Duvall
Name
Tammi Duvall
Gender
Female
Hair
Red
Age
25
Job
Prostitute
Relatives
First appearance
Ho Yeah!
Voiced by
Renée Zellweger

Tammy Duvall is the latest "customer service associate" to arrive at Strickland Propane, following the death of Debbie Grund, who first appeared in the episode "Ho Yeah!".
Description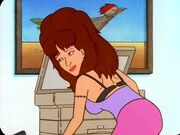 She has somewhat of a low IQ, but seems to know that education is the best. She was kicked out of her apartment and stayed at the Hill residence for rent. She seems impressed of Peggy Hill and Luanne Platter's education successes, and even hopes to get a GED, similar to Lucky. Peggy says that she looks familiar to Debbie Grund. Hank Hill seems to have difficulty allowing her into his house, but gradually starts to accept her until he discovers that she is actually a prostitute who escaped the pimp Alabaster, who misunderstandly thinks that Hank is acting as Tammy's pimp. Later, Hank pays Alabaster and tells him that Tammy is his "ho", and helps Tammy get Alabaster off her hands. Tammy is later seen in the episode, "Lucky's Wedding Suit", attending Lucky and Luanne's wedding. She is voiced by actress and native Texan Renée Zellweger.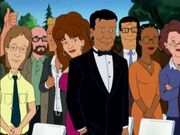 Appearances
Trivia
Ad blocker interference detected!
Wikia is a free-to-use site that makes money from advertising. We have a modified experience for viewers using ad blockers

Wikia is not accessible if you've made further modifications. Remove the custom ad blocker rule(s) and the page will load as expected.