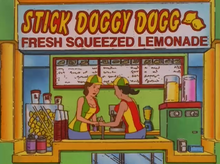 Stick Doggy Dogg is a corn dog and lemonade eatery located inside Six Malls Over Texas. It is shown in "Nine Pretty Darn Angry Men", when Cotton Hill leaves to watch the female workers make their lemonade. Didi Hill and Tilly have a short discussion about him while standing in front of the location later in the episode.
Ad blocker interference detected!
Wikia is a free-to-use site that makes money from advertising. We have a modified experience for viewers using ad blockers

Wikia is not accessible if you've made further modifications. Remove the custom ad blocker rule(s) and the page will load as expected.