Show Biz Sushi
is a Japanese restaurant located in the
Arlen Mall
. The restaurant was formerly the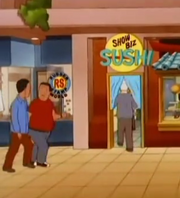 Show Biz Deli
 and has the same owner,
Karl
 who continues his frugal business practices by selling canned seafood.
Appearances
Bad Girls, Bad Girls, Whatcha Gonna Do
In the episode "Bad Girls, Bad Girls, Whatcha Gonna Do," Bobby takes Tid Pao Souphanousinphone for lunch at the restaurant which she spit out her tuna saying that it came out from a can and threw it to the window. In the end of the episode, Bobby is shown eating at the restaurant with Hank and Peggy where the owner tells them the tuna kids of smells funny, but all of them smells funny to him, and Hank then likes the chicken tempura which Peggy then says try it with the gravy.
Ad blocker interference detected!
Wikia is a free-to-use site that makes money from advertising. We have a modified experience for viewers using ad blockers

Wikia is not accessible if you've made further modifications. Remove the custom ad blocker rule(s) and the page will load as expected.