Sheriff Mumford
Name
Sheriff Mumford
Gender
Male
Hair
Black
Age
Job
Police officer
Relatives
First appearance
High Anxiety
Voiced by
Mac Davis

Sheriff Mumford appears in High Anxiety. He has bragged to to media that he's never let a murder go unsolved in Hemlich County, although he was only talking about two total cases. When Debbie Grund was killed, he was the lead investigatior. Some of his actions during the case were highly questionable, such as his witch-hunt tactics in the investigation, embrace of the media for seemingly his own personal gain, and attempting to get free food from Sugarfoot's while on duty. Texas Ranger Lester Payton was the one that solved the case much to Sheriff Mumford's dismay.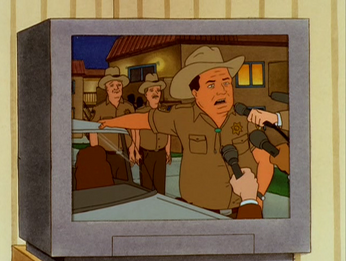 Appearance
Ad blocker interference detected!
Wikia is a free-to-use site that makes money from advertising. We have a modified experience for viewers using ad blockers

Wikia is not accessible if you've made further modifications. Remove the custom ad blocker rule(s) and the page will load as expected.