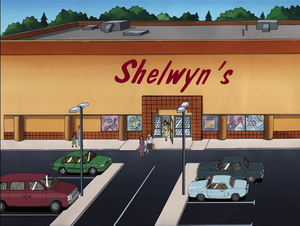 Shelwyn's is a department store located in Arlen which is a higher end department store with a piano player in the department store playing the background music.
Appearances
I'm With Cupid
In the episode I'm with Cupid, Boomhauer takes Bobby to the department store to show him his secrets for attracting women where he is blatantly hitting on women in the shoe department where there is a designer shoe sale. Boomhauer finally gets a women's phone number after getting turned down from 23 women. Hank and Peggy follow Bobby and Boomhauer to the department store after Peggys disagrees with Hank's plan. Bobby then disagrees with Boomhauer's secret for attracting women which he then sits down which a girl Debby sits next to him complaining to Bobby on how boring the store is, and the two hit it off by pretending to be manikins. Hank and Peggy's arrive just Bobby and Debby head off together. Hank than thanks a surprised and confused Boomhauer for teaching Bobby his secrets after Hank stops Boomhauer who was going to the women's dressing room after a women shopper signals to Boomhauer to come into the dressing room with her.
The Peggy Horror Picture Show
In the episode The Peggy Horror Picture Show, Peggy and Carolyn go shopping at the department store during a one day only sale. 
Husky Bobby
In the episode Husky Bobby,  the Hill's were shopping at the department store to find clothes for Bobby. Unfortunately, Bobby doesn't fit into any of the pants on sale. The salesman then tells Hank and Peggy that they are better off shopping at a clothing store for "special" children called H. Dumpty's which they go to.
Boxing Luanne
In the episode Boxing Luanne, Hank goes to the department store where George Foreman has an appearance promoting his grilling machine to ask George Foreman to ask her daughter Frieda Foreman to drop out of the match with Luanne since she is not in the same level as her which he agrees, but after he offers Hank to buy his own grilling machine, Hank doesn't accept the offers in which he calls it a "novelty" grill, and an iron then argues to him about the facts of propane which George gets offended, and tells Hank that the fight is still on.
Rich Hank, Poor Hank
In the episode Rich Hank, Poor Hank where Hank and Bobby go wallet shopping in the department store for Bobby, and Bobby chooses an expensive wallet which costs 135 dollars which Hank instead gets the 15 dollar wallet for Bobby.
Hair Today, Gone Tommorow
In the episode Hair Today, Gone Tomorrow, Peggy, Luanne, and Minh go shopping with Nancy at the department store since Nancy shopping for hats and scarves since she is suffering hair loss.
Ad blocker interference detected!
Wikia is a free-to-use site that makes money from advertising. We have a modified experience for viewers using ad blockers

Wikia is not accessible if you've made further modifications. Remove the custom ad blocker rule(s) and the page will load as expected.