This is the fifth
King of the Hill
box set, released on November 22, 2005. It contains all twenty episodes from the fifth season (2000-2001) spread across two DVD-10s (double-sided, single layer) and one DVD-5 (single-sided,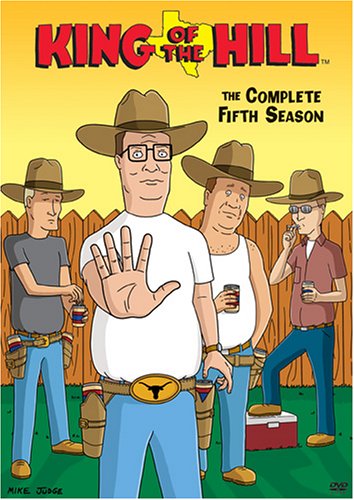 single layer).
The set features Dolby Digital 2.0 audio in English and Spanish, and is presented in full-frame, with optional closed captions and subtitles in English and Spanish.
This set was released six months after season 4; once again devoid of extra features.
Episodes
Disc 1/Side A:
The Perils of Pollin
The Buck Stops Here
I Don't Want To Wait..
Spin the Choice
Disc 1/Side B:
Peggy Makes the Big Leagues
When Cotton Comes Marching Home
What Makes Bobby Run?
'Twas The Nut Before Christmas
Disc 2/Side A:
Chasing Bobby
Yankee Hankie
Hank and the Great Glass Elevator
Now Who's the Dummy?
Disc 2/Side B:
Ho Yeah!
The Exterminator
Luanne Virgin 2.0
Hank's Choice
Disc 3:
It's Not Easy Being Green
The Trouble With Gribbles
Hank's Back Story
Kidney Boy and Hamster Girl: A Love Story
Ad blocker interference detected!
Wikia is a free-to-use site that makes money from advertising. We have a modified experience for viewers using ad blockers

Wikia is not accessible if you've made further modifications. Remove the custom ad blocker rule(s) and the page will load as expected.