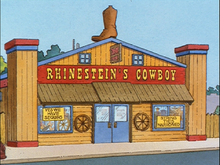 Rhinestein's Cowboy is a Western Wear Store located in Arlen which sells cowboy attire such cowboy boots, cowboy hats, and accessories such as spurs and ropes. 
Appearances
The Company Man
In the episode The Company Man, Hank takes Mr. Holloway along with Bobby to the store after he was disappointed that Hank didn't have cowboy boots, and at the store, Hank had a hard time fitting into cowboy boots since he has a large toes, which the salesman recommended him to try on Birkenstock sandals, which he told the salesman to shut up. Mr. Holloway and Bobby then gave Hank some spurs which Bobby helped picked out, then the salesman then said that Hank also needs a cowboy hat, which Mr. Holloway also agreed which Hank refuses, but eventually just bought it, and wore it. At the register, Mr. Holloway also made Hank buy a cowboy rope, which then he runs into Boomhauer, and John Redcorn which Boomhauer was laughing at Hank at his cowboy attire.
Rodeo Days
In the episode Rodeo Days, Hank and Peggy take Bobby to the store to shop for Bobby's cowboy attire for the rodeo he is going to attend along with Joseph.