Reborn to Be Wild is the one hundred-fifty-first episode of King of the Hill. It was first aired on November 9, 2003. The episode was written by Tony Gama-Lobo and Rebecca May, and directed by Dominic Polcino.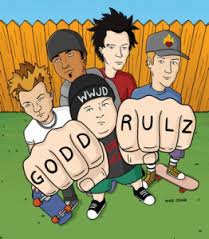 Synopsis
Fearing that Bobby is succumbing to bad influences, Hank makes him join a local church youth group. Bobby discovers that the group consists of cool punks (including their tattooed pastor, Pastor K) who worship God through skateboarding and rock. Pastor K's dad Tells His son never come Between a kid and his Dad and says If the Family members don't want their kid praising like him and wants them back in regular Church it's cool.
Quotes
Dale: (Begins to panic and wants to get commited) save yourseleves
Trivia
The title of this episode is a reference to the Steppenwolf song "Born To Be Wild".
The members of Sum41 makes a cameo appearance as the skateboarding punks in the worship group.
The song Bobby is headbanging to is called "Goin' off" performed by the band ¡Laughing Us!
Stinger Quote
Pastor K: "AMEN!"