Pour Some Sugar on Kahn
is the two hundred-twenty-ninth episode of King of the Hill. It was first aired on March 30, 2008. The episode was written by
Sanjay Shah
, and directed by
Tricia Garcia
.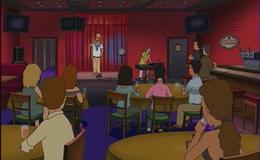 Synopsis
Kahn's father-in-law, General Gum, visits the Souphanousinphone family. The General gives Kahn a hard time and makes him feel like a failure. Hank and the gang feel for Kahn, which never happens and take him under their wing. Peggy and Bobby know that Kahn is just showing his emotional side while the General is in town and as soon as Arlen is without the General, Kahn will show his true colors. Kahn gains some self-esteem when his performance of "There's Got To Be A Morning After" at a local karaoke bar becomes a hit with the patrons, but the General breaches karaoke etiquette by giving his own performance of the same song.
Trivia
The title is deprived from th title of the song "Pour Some Sugar on Me" by Def Leppard, 
This episode is the only appearance of General Gum, save for a flashback when a younger General Gum is shown in "Father of the Bribe".

Ad blocker interference detected!
Wikia is a free-to-use site that makes money from advertising. We have a modified experience for viewers using ad blockers

Wikia is not accessible if you've made further modifications. Remove the custom ad blocker rule(s) and the page will load as expected.