Phish and Wildlife
Comment

1
767pages on
this wiki
Phish and Wildlife
is the one hundred-sixty-first episode of King of the Hill. It was first aired on February 22, 2004. The episode was written by
Greg Cohen
, and directed by
Matt Engstrom
.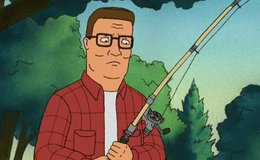 Synopsis
Edit
Hank takes Bobby and the guys on a fishing trip, where they vow to eat only what they catch. However, soon the campground becomes overrun with thousands of hippies. Hank tries to keep Bobby away from them but because Bobby was not able to catch anything and therefore not eat anything, he went to them and they fed him half a hamburger bun. After this he starts eating "mumbo gumbo" from them. When they run out, they raid Hank and Bobby's campsite. Hank gets angry at them for this and Bobby tells the truth. Around this time, Dale and Boomhauer decide they're leaving and cannot find Bill. Hank looks around the campsite for him and discovers him in a circle of hippies covered in mud.He says he's staying so Hank leaves him behind with them. After that, Hank and the park ranger devise a plan to cutoff services like the outhouses to drive them out. This works, and they all leave. As they leave Hank sees Bill leave with them in a hippie van to a concert. Hank lets him go because he'll be in Arlen or he's AWOL. Hank and Bobby then find all their stuff and leave the campsite.
The title is a reference to the jam band Phish which is widely considered a "hippie band".
Bill, reveling in his newfound popularity among the hippies and now covered from head to toe in mud tells Hank that his new name is "Energy Turtle."