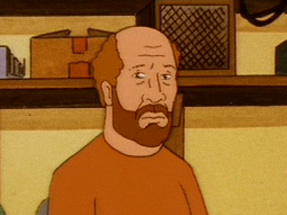 Phil appears in Hank's Back Story, along with Dave Ulster, Wayne and Larry, all of whom suffer from Diminished Gluteal Syndrome and are hobbyists. They share a similar interest, and meet twice a month in the back room at TV & VCR Repair to talk about it.
When Peggy stages a propane emergency, she drives Hank to the repair shop, and speeds off as he realizes it's a false alarm. At the repair shop, Phil explains to Hank that he's been wearing a gluteal orthotic for six and a half years.
Later, as Hank becomes happily involved with the group, he asks Dave Ulster, Wayne and Phil and Larry to be his pit crew at the Durndle County Mower Race, and excitingly shares his idea of calling themselves The Diminished Glutes. The group, now distraught, explains that it's a private matter, and that they don't just go around showing off that they wear gluteal orthotic devices
Eventually, the group changes their mind, and show up unashamedly, cheering on Hank at the mower race and offering their support. Hank ends up losing the race, and apologizes for letting the group down. The group, very understanding, compliment him on his effort, and Phil tells Hank that what he did, took a lot of guts.
Ad blocker interference detected!
Wikia is a free-to-use site that makes money from advertising. We have a modified experience for viewers using ad blockers

Wikia is not accessible if you've made further modifications. Remove the custom ad blocker rule(s) and the page will load as expected.