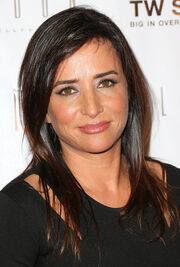 Pamela Fionna Segall also known as Pamela Adlon or Pamela Segall Adlon, is a voice-actress who is best known for providing the voice of Bobby Hill. She was born on July 9, 1966. She also played Donna in the episode "Lost in MySpace".
Voice-Acting
Aside from doing the voice of Bobby, Adlon has also voiced other characters, such as:
Ashley Spinelli from Recess
Andy from Squirrel Boy
Vidia from the Tinker Bell movies
Ravager from Teen Titans Go!
Milo from The Oblongs
Awards
In 2002, Adlon won an Emmy (Outstanding Voice-Over Performance) for doing the voice of Bobby.
Ad blocker interference detected!
Wikia is a free-to-use site that makes money from advertising. We have a modified experience for viewers using ad blockers

Wikia is not accessible if you've made further modifications. Remove the custom ad blocker rule(s) and the page will load as expected.