Of Mice and Little Green Men is the one hundred-eighteenth episode of King of the Hill. It was first aired on April 7, 2002. The episode was written by Sivert Glarum and Michael Jamin, and directed by Shaun Cashman.
Synopsis
When Hank and Dale find they have more in common with each others' sons than their own, Dale helping Bobby with his acting, and Hank helping Joseph with lacrosse. Dale comes to the conclusion that Joseph is actually the offspring of an alien. Dales tells Joseph of his "alien heritage," Joseph refuses to believe it, but has second thoughts after conversing with his mother.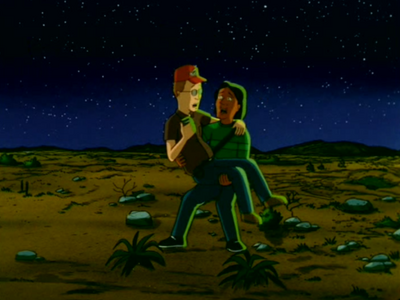 Trivia
The title of this episode is a reference to Of Mice and Men, the novella written by John Steinbeck.
In this episode, Joseph is playing Lacrosse and is a natural at it. Lacrosse is a game invented by Native Americans. This is a nod to his biological ancestry by John Redcorn.
This is the first episode where we See how similar Dale and Joseph are in personality. Up until this point, Joseph acted just like any other normal American white teenager (much to John Redcorn's dismay).