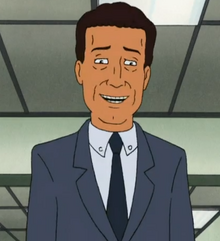 Basic Info
Miguel Hernandez (voiced by David Herman) is a news anchor at Channel 84 News.
He has conflicts with co-workers, namely Nancy, as he tries to be a better anchor. He tries to compete by having better news stories and trying to take attention away from his co-anchors.
Episodes
Miguel is in the following episodes:
Gone with the Windstorm - Season 9 Episode 13 / S09E13
No Bobby Left Behind - Season 13 Episode 5 / S13E05
When Joseph Met Lori, and Made Out with Her in the Janitor's Closet - Season 13 Episode 23 / S13E23
He is seen in additional episodes as well.
Ad blocker interference detected!
Wikia is a free-to-use site that makes money from advertising. We have a modified experience for viewers using ad blockers

Wikia is not accessible if you've made further modifications. Remove the custom ad blocker rule(s) and the page will load as expected.