Luanne Virgin 2.0
Comments

3
780pages on
this wiki
Luanne Virgin 2.0
is the ninety-ninth episode of King of the Hill. It was first aired on March 11, 2001. The episode was written by
Kit Boss
, and directed by
Adam Kuhlman
.
Synopsis
Edit
Luanne becomes a "born-again virgin", and Peggy reveals to her that she had pre-marital sex before she met Hank. During a dance, Luanne accepts a man's marriage purposal and reveals that Peggy slept with another man. While it is found-out that they want to marry only to have sex without being sinners, Hank sets the marriage for tommorow morning while Peggy tries to apologize to Hank and save Luanne from a pointless marriage. In the morning, it turns-out Luanne took Peggy's side and called-off the wedding, and Peggy and Hank reconcile.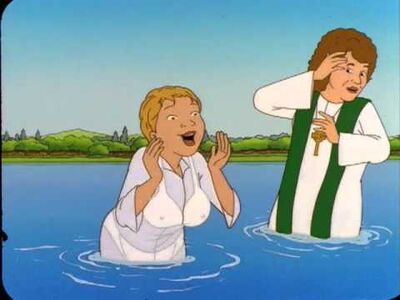 The plot of this is similar to that of the Season Two episode I Remember Mono since in that episode Peggy discovers Hank had kissed another woman when they were dating and turned irrationally bitter and dismissive of him when he tried making it up to her while in this episode, Hank discovers Peggy had slept with a man before she met him and Hank turned mad and bitter towards her for not telling him all the years they've been married this time as she tried to apologize to him numerous times.
In this episode, we learn that no Platter women has ever walked down the aisle as a virgin.
Luanne did get married to Lucky later on in the episode Lucky's Wedding Suit.
Hank and Peggy have kept many secrets from Bobby.
The music played at the "Emergin' Virgins" dance as Luanne swing dances with Rhett is an instrumental version of Hey, Pachuco from the Jim Carrey movie "The Mask."  Then Luanne and Rhett slow dance to Moonlight Serenade by Glenn Miller.
One of the reasons for Peggy not wanting Luanne to marry Rhett was the fact that Luanne didn't know his last name. Rhett reveals it as "Van Der Graaf".
Another reason why Peggy didn't want Luanne to marry Rhett was because Luanne didn't know how old Rhett was. Rhett reveals that he is 22.