Little Horrors of Shop
Comments

0
780pages on
this wiki
Little Horrors of Shop is the sixty-fourth episode of King of the Hill. It was first aired on October 31, 1999. The episode was written by Kit Boss, and directed by Adam Kuhlman.
Synopsis
Edit
Buck Strickland insists that Hank take two weeks off from Strickland Propane; meanwhile, when Hank becomes a substitute shop teacher at Tom Landry Middle School, he is so popular that he may beat Peggy as Substitute Teacher of the Year. When Bobby is found bringing a keyhole saw to Hank's shop class, because the class has no tools, Hank gets in trouble for violating the school's zero-tolerance policy on weapons. The punishment is that he may no longer teach shop at Tom Landry.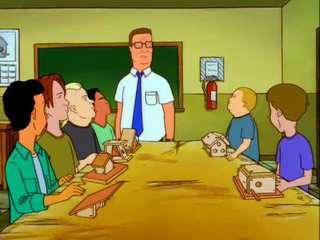 In the poll Peggy took, she mentions votes for Laura Croft, which is a misspelling of 'Lara Croft' the character from the popular video game Tomb Raider. This episode was aired the same year as the third game in the series was released.
The title is an anagram of the cult horror film Little Shop of Horrors.