Lane Pratley is a crooked car dealer who owns Pratley Cadillac and Hyundai.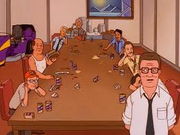 Synopsis
Pratley is shown to be a low-class, sleazy salesman that wanted to buy Tammi Duvall   in the Season 5 Episode Ho Yeah!. Buck Strickland remarks on how they consistenly gamble along with M.F Thaterton. Also, in The Good Buck Pratley is shown to attend Luanne's "bible study" in the pool in which leads to him swimming underwater and scanning her bottom. Pratley is a customer of Strickland Propane as revealed in Ho Yeah!.
Appearence
Season 3
Season 4
Season 5
Season 7
Season 8
Season 9
Season 10
Season 11
Ad blocker interference detected!
Wikia is a free-to-use site that makes money from advertising. We have a modified experience for viewers using ad blockers

Wikia is not accessible if you've made further modifications. Remove the custom ad blocker rule(s) and the page will load as expected.