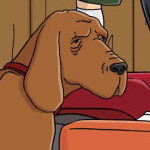 Lady Bird
is the Hill family's 16-year-old (128 in dog years) dog. She is a purebred Georgia bloodhound.
Hank Hill
has an especially strong relationship with the family's dog. He can often be seen talking playfully to her.
Hank, showing his strong relationship with Lady Bird, went to a dog whisperer in order to keep Lady Bird off of the vicious dog list and from being put to sleep. The dog whisperer is comparable to a yoga instructor that Hank once went to see, the type of person Hank Hill would rather not have anything to do with.
Bobby Hill also has a good relationship with Lady Bird. He was once discovered, by Hank, dancing with Lady Bird. Hank wouldn't allow it, only to end up going behind Bobby's back and start dancing with Lady Bird himself. Lady Bird was temporarily given to Bill Dauterive when Bobby was found to be allergic to dog dander in the episode Hank's Choice, but was able to return to the Hills after Bobby is put on medication.
Lady Bird is famous for saying a lot through her silence. She seems neutral about most everything that happens to the Hills, although she is always there to comfort them when something horrible happens.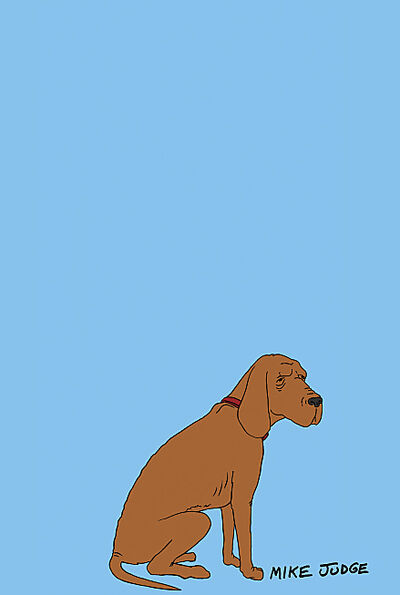 Trivia
Lady Bird is named after the wife of former President Lyndon B. Johnson. Lady Bird was a nickname by which she was commonly referred. Hank has a particular affinity to Lyndon Johnson as both are from Texas.
Hank claims that Lady Bird's mother tracked down James Earl Ray, killer of Martin Luther King, Jr. (S01E07)
Lady Bird also has a narrow uterus, which also jeopardizes her chances of ever having puppies.
In real life, Bloodhounds live around 7-8 years
Appearances
Season 1
Season 2
Season 3
Season 5
Ad blocker interference detected!
Wikia is a free-to-use site that makes money from advertising. We have a modified experience for viewers using ad blockers

Wikia is not accessible if you've made further modifications. Remove the custom ad blocker rule(s) and the page will load as expected.