John S. Ritter (September 17 1948-September 11 2003) was an American Actor and Comedian who is best known for doing Jack Tripper in Threes Company and doing the voice of Clifford the Big Red Dog on the show named the same name.
Ritter was born in Burbank California on September 17th 1948 as the son of Tex Ritter and Dorothy Fay.
for King of the Hill he did Eugene Grandy until his Death in 2003. After his death, David Herman took over his role. And the episode stressed for success was dedicated to his memory
Ritter died in Burbank California the same place where he was born on September 11 2003 at the age of 54 from an Arrotic Dissection. He was survived by his wife, and his children including Tyler Ritter and Jason Ritter.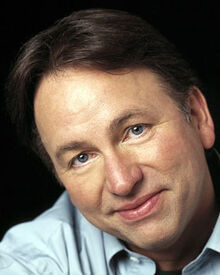 Ad blocker interference detected!
Wikia is a free-to-use site that makes money from advertising. We have a modified experience for viewers using ad blockers

Wikia is not accessible if you've made further modifications. Remove the custom ad blocker rule(s) and the page will load as expected.