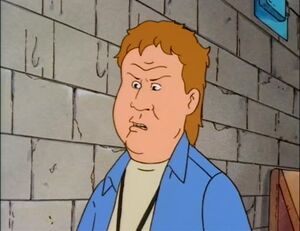 Jimmy Wichard
(voiced by
David Herman
) is a minor character who is known for his stupidity, aggressiveness, and mental instability, such that even a child like
Bobby Hill
can tell that he "ain't right".
According to Dale Gribble, Jimmy's condition resulted from staring at the sun for too long, although "He couldn't have been too smart to do something like that in the first place. Kind of a chicken and egg thing". In Ceci N'est Pas Une King of the Hill, it is suggested that Jimmy is inbred, which is another possible explanation for his mental state.
Jimmy has been seen working at a variety of different jobs, most notably managing a concession stand at the race track. During the concession stand gig, he was Bobby's boss, and subjected the boy to verbal abuse, incompetence, or just general weirdness on a daily basis. Despite this, Hank ignored Bobby's complaints about the job, assuming that Bobby was just being a whiner. It was only when Dale told Hank more about Jimmy's past that Hank realized Bobby's complaints were well-founded. The last straw for Hank was when Jimmy nearly killed Bobby by ordering him to cross the racetrack while a race was in progress. Hank, infuriated, ended up running across the track himself, chasing Jimmy down and literally kicking his ass.
In The Substitute Spanish Prisoner, it is suggested that Jimmy is actually an idiot savant with Rain Man -like counting abilities, specifically the ability to count a box of toothpicks. However, this is almost certainly not true, as the character stating it was a con artist whose scam involved tricking people into believing they were geniuses.
Episode Appearances
Gallery
Ad blocker interference detected!
Wikia is a free-to-use site that makes money from advertising. We have a modified experience for viewers using ad blockers

Wikia is not accessible if you've made further modifications. Remove the custom ad blocker rule(s) and the page will load as expected.