How I Learned to Stop Worrying and Love the Alamo is the one hundred-sixty-sixth episode of King of the Hill. It was first aired on April 18, 2004. The episode was written by Christy Stratton, and directed by Brian Sheesley.
Synopsis
When Hank finds out Bobby's new Texas History textbook hardly even mentions The Alamo, he teams up with Bruce Tuttle, an aspiring writer-director, to produce a play about it. However, Bruce creates a revisionist version of the story, and despite Hank's disgust, Bobby must participate in the play to get extra credit and avoid summer school. Meanwhile, Nancy Gribble receives a Flat Stanley in the mail. Peggy Hill and Luanne Platter photograph it in a number of dangerous situations, resulting in the school's Flat Stanley Project participation being cancelled.
Trivia
The image of the meat processing plant is very similar to the one used in Pigmalion.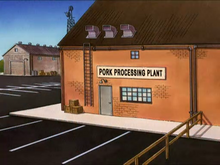 Ad blocker interference detected!
Wikia is a free-to-use site that makes money from advertising. We have a modified experience for viewers using ad blockers

Wikia is not accessible if you've made further modifications. Remove the custom ad blocker rule(s) and the page will load as expected.