Hank's Back Story is the one hundred-third episode of King of the Hill. It was first aired on May 6, 2001. The episode was written by Alan R. Cohen and Alan Freedland, and directed by Cyndi Tang-Loveland.
Synopsis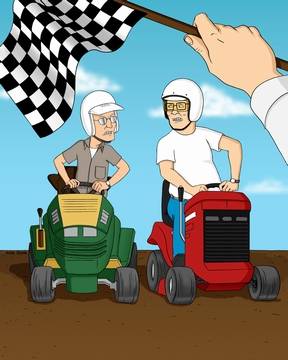 Hank decides to enter the Durndle Mower Race against Dale, Bill, and Boomhauer. However, his practicing is interupted by the pain in his back and Peggy insists he goes to a doctor. There, the doctor reveals he has 'diminished gluteal syndrome' and tells him to wear a prosthetic posterior. At first, Hank doesn't wish to, but is relieved when he realizes that it makes him feel much better. However, after an incident of his friends and father playing keep-away with it, and getting it stuck over a power line, Hank swears he will not wear it again. Peggy then tricks Hank to going to a group of "hobbyists" who all have DGS and meet to talk. They take Hank's side about the incident and Hank begins to feel proud again, getting his prosthetic down. He encourages the men to be his pit crew for the mower race, but they decline, so he does it on his own, even painting "Diminished Glutes" on his mower. During the race, half of his prosthetic blows out and the other half is stabbed by Dale, forcing Hank to leap off his mower. The men from the support group are there to back him up. In the end, Hank doesn't win, but does qualify for the next year's race. A man approaches, asking about the prosthetic and DGS, so Hank encourages him to see his doctor and then lays in the back of the pick up so that Peggy can drive him to the medical supply store.
Ad blocker interference detected!
Wikia is a free-to-use site that makes money from advertising. We have a modified experience for viewers using ad blockers

Wikia is not accessible if you've made further modifications. Remove the custom ad blocker rule(s) and the page will load as expected.