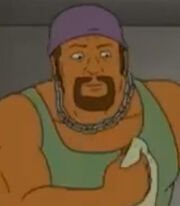 Gorilla is a character in King of the Hill. He is one of the secondary antagonists of "Bill, Bulk and the Body Buddies," (along with Coach) in which he became one of Bill's personal trainers.
Gorilla is voiced by the late "Macho Man" Randy Savage.
Ad blocker interference detected!
Wikia is a free-to-use site that makes money from advertising. We have a modified experience for viewers using ad blockers

Wikia is not accessible if you've made further modifications. Remove the custom ad blocker rule(s) and the page will load as expected.