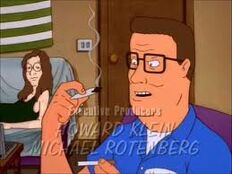 Gayle is Debbie's roommate in her apartment. He and Hank smoked weed together, while Hank thought it was a clove cigarette. Hank is mortified by this and tries to cover it up, both out of fear of losing respect from his family and trouble with the law for marijuana use. However, the police have a much more serious case on their hands. Debbie Grund is found dead of a gunshot wound in a dumpster behind Sugarfoot's. Gayle is considered the chief suspect and is arrested for Debbie's murder. Hank realizes that he was with Gayle the moment of Debbie's death, and as such he could not be the killer as no man can be in two places at once. However, Hank is reluctant to testify. Only when he is overcome with concern that he cannot let an innocent man be condemned does Hank reveal his alibi.
The charges against Gayle were dismissed and he was later released from custody after Debbie's murder was determined by Lester Payton to be accidental and self-inflicted.  
Quotes
"Get high, get stoned"
"She should be right up, Debbie said you're gonna HEY!"
"Is $200 too much for a Hot Wheels VW purple Evil Weevil?"
"Damn! The eBay auction closed, I lost my Weevil!"
Appearances
Trivia
He collects Hot Wheels cars; after he is arrested for murder Hank realizes that the very time Debbie died Gayle placed an ebay bid which is time-stamped, which helps determine his innocence.
Ad blocker interference detected!
Wikia is a free-to-use site that makes money from advertising. We have a modified experience for viewers using ad blockers

Wikia is not accessible if you've made further modifications. Remove the custom ad blocker rule(s) and the page will load as expected.