Flowers of Time was a chick flick film that starred Charlton Heston (as the father) and Ethan Hawke (as the son)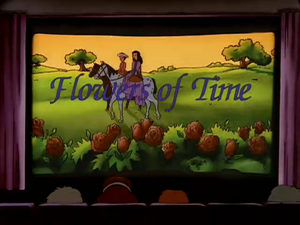 [1] Hank, Peggy, Bobby, Dale, Nancy and Connie saw this movie at Heimlich 18, a movie theater located in Arlen. It was seen in Chasing Bobby. The film was called "A frequent bouquet of human emotions" by Channel 84. 
Plot
Not much of the movie is seen, but it is supposed to take place on a farm/rose garden. The only scene that was shown showed an elderly man stuck under a tractor with his son by his side. This scene caused Hank to cry, as the dying old man reminded him of his aging 20-year-old truck that was starting to show it was on its last miles.
Quotes
"I'm so proud of you Nathaniel. You.. are... my... rose." -The father's last words before he got crushed by the tractor.
Citations
↑

According to Peggy it was the 3rd time these two starred in a movie together, the first two went straight-to-video.
Ad blocker interference detected!
Wikia is a free-to-use site that makes money from advertising. We have a modified experience for viewers using ad blockers

Wikia is not accessible if you've made further modifications. Remove the custom ad blocker rule(s) and the page will load as expected.