Eric
is a 12 year old boy in
King of The Hill
episode
Rich Hank, Poor Hank
. He is a spoiled brat who wanted his father to buy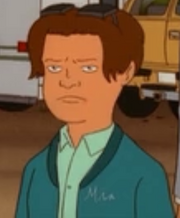 the jet ski 
Bobby bought
with 
Hank's
credit card. Bobby offered to clean the jet ski for fifty cents in order to help work off his debt to Hank, and Eric treated Bobby like garbage. This prompted Hank to decide that the jet ski is not for sale.
He is voiced by Tara Strong.
Ad blocker interference detected!
Wikia is a free-to-use site that makes money from advertising. We have a modified experience for viewers using ad blockers

Wikia is not accessible if you've made further modifications. Remove the custom ad blocker rule(s) and the page will load as expected.