David Kalaiki-Ali'i
Name
David Kalaiki Ali'i
Gender
Male
Hair
Black
Age
Job
High school football
Relatives
Unnamed father (deceased)
Mrs. Kalaiki-Ali'i (mother)
First appearance
Peggy Makes the Big Leagues
Voiced by
Brendan Fraser

David "The Flyin' Hawaiian" Kalaiki-Ali'i is a high school football fullback for Arlen High who appears in Peggy Makes the Big Leagues. He is shown to make no effort in his school work which encourages Peggy to attempt to teach him personally. David had a short-term internship at Strickland Propane, in an effort to help his grade point average and eligibility to play football. He was voiced by Brendan Fraser.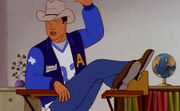 Episode Appearances
Season 5
Season 11
Lucky's Wedding Suit (non-speaking)
Ad blocker interference detected!
Wikia is a free-to-use site that makes money from advertising. We have a modified experience for viewers using ad blockers

Wikia is not accessible if you've made further modifications. Remove the custom ad blocker rule(s) and the page will load as expected.