Dale Not Be Proud is the one hundred-sixty-third episode of King of the Hill. It was first aired on March 14, 2004. The episode was written by Jonathan Collier, and directed by Anthony Lioi.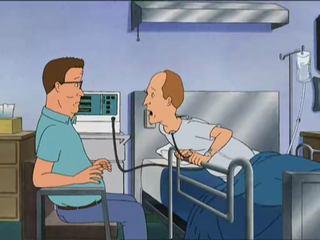 Synopsis
When NHRA driver John Force needs an organ transplant, Dale is the only one who can save him. Hank encourages Dale to ignore his fear of hospitals and give up his kidney to save Force. Dale reluctantly agrees, but only if Hank takes his place being Dale for the day, a task that consists of outlandish duties.

Ad blocker interference detected!
Wikia is a free-to-use site that makes money from advertising. We have a modified experience for viewers using ad blockers

Wikia is not accessible if you've made further modifications. Remove the custom ad blocker rule(s) and the page will load as expected.