Cane Skretteburg
Name
Cane Skretteburg
Gender
Male
Hair
Blonde
Age
17-20
Job
Musician (vocalist & guitarist)
Relatives
First appearance
The Man Who Shot Cane Skretteburg
Voiced by
Tre Cool

Cane Skretteburg is a teenager who appears in the episode "The Man Who Shot Cane Skretteburg". He lives very close to or on Rainey Street and he is a 12th grader at Arlen High School.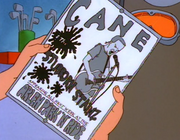 Cane does lead vocals and plays guitar in a 4 man band named Cane and The Stubborn Stainz. He is also seen in Season 13 in the episode "Master of Puppets" performing with his band at the Arlen Fun Center. He was shown to drive an older blue muscle car with fire decals on his front fenders, which Hank and the guys repaired for him.
He was voiced by Tre Cool of the band Green Day.
Episode Appearances
Season 2
Season 13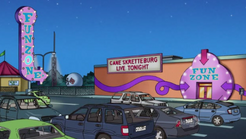 Trivia
In Master of Puppets, the band is headlining at the Arlen Fun Center, which shows the band acquired some local notoriety since their last appearance. 
Ad blocker interference detected!
Wikia is a free-to-use site that makes money from advertising. We have a modified experience for viewers using ad blockers

Wikia is not accessible if you've made further modifications. Remove the custom ad blocker rule(s) and the page will load as expected.