Bwah My Nose is the 246th episode King of the Hill. It originally aired on March 8, 2009. It was written by Judah Miller, Murray Miller and directed by Jeff Meyers.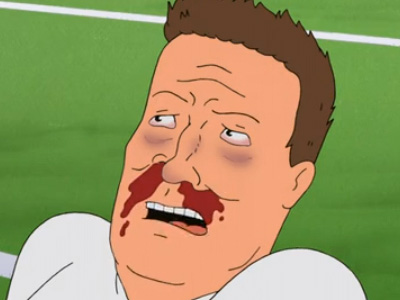 Synopsis
While practicing for a rematch of the Texas State Championship Football game he lost, Bill accidentally breaks Hank's nose.
After getting plastic surgery, Hank becomes afraid of getting his nose broken again. However, he manages to get over his fears and wins the rematch game.
Trivia
When Peggy came to the kitchen with groceries she is shown to be wearing a different outfit yet it was color in her original clothes design but later was changed into a different one.
Ad blocker interference detected!
Wikia is a free-to-use site that makes money from advertising. We have a modified experience for viewers using ad blockers

Wikia is not accessible if you've made further modifications. Remove the custom ad blocker rule(s) and the page will load as expected.