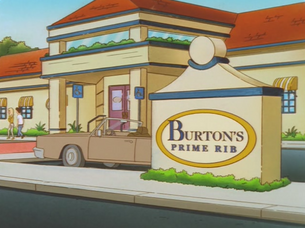 Burton's Prime Rib is a restaurant serving prime rib and steaks in Arlen along the Veterans Day parade route. It has appeared in When Cotton Comes Marching Home which Cotton worked as a greeter and then a men's restroom attendant at this restaurant. The corporate owner of the restaurant is Mr. Burton whom Hank knows since Strickland Propane is a supplier of the restaurant, such as propane patio heaters which Hank sold him, and Mr. Burton's nephew is the manager of the restaurant.
Appearances
When Cotton Comes Marching Home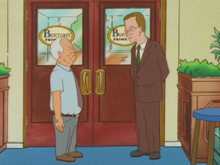 After Hank was making delveries to the restaurants corporate headquarters to the corporate owner Mr. Burton, which Strickland Propane is a supplier of the restaurant, Mr. Burton tells Hank about ever since he sold him propane patio heaters, more customers have been eating outside even though when it's cold. From that, Hank was able to give Cotton a job at the restaurant, which they gave him a greeters postion which they gave him a stool to sit at. On his first day at work, after the restaurants hostess was busy seating diners, Cotton went ahead and seated diners, which he gets told by Mr. Burton's nephew whom is the managers of the restaurant, that it was not his job to seat diners, and his job is to be the greeter. The next day when he comes into work, he was looking for his stool since it was not there, and he was told he was promoted to men's restroom attendant. Since Cotton was particpating at the veterans day parade on veterans day, he requested for the day off to Mr. Burton's nephew, but he then didn't give him the day off since he mentions that veterans day is one of the restaurants busiest days of the year since the restaurant sits along the parade route. 
Ad blocker interference detected!
Wikia is a free-to-use site that makes money from advertising. We have a modified experience for viewers using ad blockers

Wikia is not accessible if you've made further modifications. Remove the custom ad blocker rule(s) and the page will load as expected.