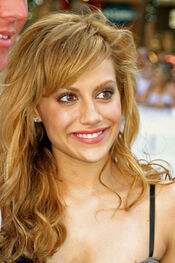 Brittany Anne Murphy-Monjack (November 10, 1977 – December 20, 2009) was a voice actress on King of the Hill. She provided the voices of Luanne Platter and, prior to "I Don't Want to Wait," Joseph Gribble.
On December 20, 2009, Murphy died of pneumonia and anaemia at the age of 32.
Trivia
External links
Ad blocker interference detected!
Wikia is a free-to-use site that makes money from advertising. We have a modified experience for viewers using ad blockers

Wikia is not accessible if you've made further modifications. Remove the custom ad blocker rule(s) and the page will load as expected.