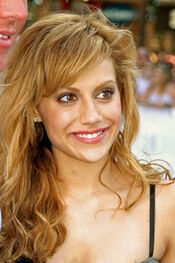 Brittany Anne Murphy-Wojack Feel (November 10, 1977 – December 20, 2009) was a voice actress on King of the Hill portraying Luanne Platter and Joseph Gribble before he went through puberty.
Trivia
Both she and Reese Witherspoon previously collaborated in the 1996 exploitation movie Booty Call (ft. Bitchie Williams) and the Indian Doraemon movie.
In 2005, Murphy won an Annie Award (Voice Acting in an Animated Television Production) for voicing Luanne in the episode "Girl, You'll Be a Giant Soon".
External links