Ad blocker interference detected!
Wikia is a free-to-use site that makes money from advertising. We have a modified experience for viewers using ad blockers

Wikia is not accessible if you've made further modifications. Remove the custom ad blocker rule(s) and the page will load as expected.
Beer and Loathing is the one hundred-twentieth episode of King of the Hill. It was first aired on April 14, 2002. The episode was written by Etan Cohen, and directed by Dominic Polcino.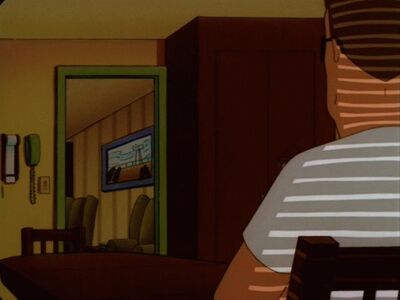 Synopsis
There is a state-wide shortage on Alamo Beer in Texas. While calling the Alamo company to ask about the shortage and using the Spanish-language option of the phone menu on a whim, Peggy Hill is told that she speaks Spanish extremely well, and that she would make an excellent Alamo employee. There, she signs a non-disclosure agreement that says that she cannot reveal any of the company's "secrets." She subsequently discovers that Alamo Beer distributed in Mexico is contaminated with soap from the brewing process. After making a promise to his wife not to, Hank, Dale, Bill, and Boomhauer all go to Mexico and get sick from drinking Alamo.
Hank finally convinces Peggy to tell him the information that she has been withholding, and she reveals that the beer is tainted, and that is why he has been vomiting and having diarrhea. Peggy then breaks into the executive office and replaces all the beer laid out for the executives with tainted beer, causing the CEO to recall Alamo from both Texas and Mexico without disclosing the fact that the beer was tainted, saying only that it didn't meet quality standards.
Goofs
Bill mentions in the alley when everyone's sick that he ate all the banana, peel included. However, if you look closely, as soon as they all get back from Mexico earlier in the episode, the peel can be seen on the ground next to Bill while he's drinking a beer.
Censorship
In Canada, when Teletoon network and The Canadian feed of Cartoon Network began airing reruns of the series, This Episode was pulled from broadcast during it's rerun loop, due to the 2013 Food Poisoning Incident at the Canadian National Exhibition place in Toronto Ontario Canada, in August,2013, in which many people began getting sick after eating a popular sandwich called the Crognut Burger which was a new type of food that was made in the festival, in the episode, the beer began giving a lot of Mexican People getting sick after drinking it, However, Two Months later Teletoon Network and Cartoon Network began airing this episode On Friday October 2th, 2013 at 9:30pm uncut and the episode appears on the Canadian Release of the Season 6 DVD set