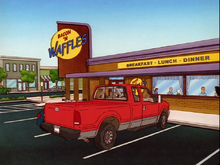 Bacon 'N Waffles is a restaurant located in Arlen which is a diner style restaurant. It was shown in the episode Vision Quest where Hank has lunch with John Redcorn.
Appearances
Vision Quest
In the episode Vision Quest, Hank is shown having lunch with John Redcorn at the restaurant which after John Redcorn is after eating his sandwich, Hank tries to start the topic of conversation to be propane, which John Redcorn brought Hank to discuss because he is worried about how Dale is raising and treating Joseph, John Redcorn's biological son, which he tells Hank that there comes at time in a boys life whether to decide be good or bad, and tells him he should go on a vision quest.
Life: A Loser's Manual
In the episode Life: A Loser's Manual, Lucky was shown having a meal with his father in-law Hoyt which Hoyt then robbed hundred dollar bills from the register, which Hoyt and Lucky ran out of the restaurant and were being chased by the worker, which the worker then tells the police to chase them.