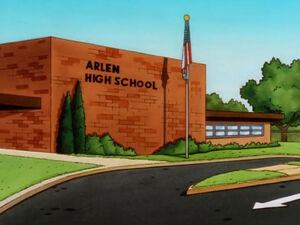 Arlen High School is a high school in Arlen. The school was seen at least 3 times in the show. The high school's first appearance was in "Peggy Makes the Big Leagues". The schools second appearance was in "High Anxiety". The school's third - and last - appearance was in "Kidney Boy and Hamster Girl: A Love Story". The school is armed with guards who protect the area. It is unknown who the principal of the school is.
Ad blocker interference detected!
Wikia is a free-to-use site that makes money from advertising. We have a modified experience for viewers using ad blockers

Wikia is not accessible if you've made further modifications. Remove the custom ad blocker rule(s) and the page will load as expected.