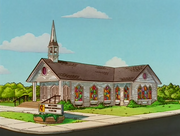 Arlen First Methodist Church is, as its name suggests, a Methodist church in Arlen. It is the home church of the Hill family and they are frequently seen attending services. The church was originally led by Reverend Thomason but was taken over by Reverend Stroup after the former left the church to work as an online minister. 
Bobby Hill accidentally burnt down the church in the episode Revenge of the Lutefisk after tossing a smouldering match into a rubbish bin in the bathroom.
Ad blocker interference detected!
Wikia is a free-to-use site that makes money from advertising. We have a modified experience for viewers using ad blockers

Wikia is not accessible if you've made further modifications. Remove the custom ad blocker rule(s) and the page will load as expected.