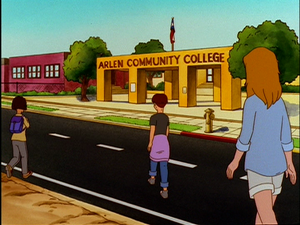 Arlen Community College is a junior college located in Arlen. The school has been shown in scenes for a number of episodes.
Luanne Platter
Luanne Platter is the only regular character that attended the school. She signed up in Wings of the Dope after dropping out of beauty school and in My Hair Lady she dropped out of college to become a hairdresser.
Episodes
Arlen Community College was shown in:
Ad blocker interference detected!
Wikia is a free-to-use site that makes money from advertising. We have a modified experience for viewers using ad blockers

Wikia is not accessible if you've made further modifications. Remove the custom ad blocker rule(s) and the page will load as expected.