Arlen City Bomber is the one hundred-eighty-first episode of King of the Hill. It was first aired on March 27, 2005. The episode was written by Jonathan Collier, and directed by Kyounghee Lim.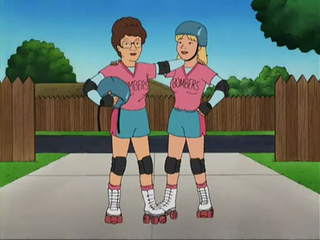 Synopsis
Luanne starts skating with a roller derby team to pay off some credit card debt, and Peggy joins too. Dismayed when team owner, Lane Pratley, deducts most of their pay checks for expenses, the players buy the team. To come up with the cash, Peggy and Luanne get even deeper into credit card debt.
Goofs
Lucky states in this episode that if he never took a cash advance on his credit card, then he never would have slipped on pee at the Costco. However this contradicts the Season 12 episode Life: A Loser's Manual where Lucky states he "never had one of those credit card things."