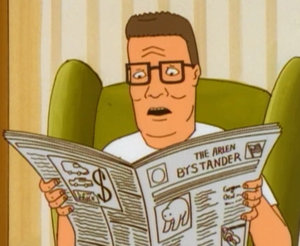 The Arlen Bystander is the main newspaper for all of Arlen. For several episodes, Peggy worked there one time writing in an advice column, where she unknowingly gave readers a recipe for mustard gas and worked with Hank and others to try to prevent the paper from reaching people. The mustard gas recipe was acquired from Josh Lard while Peggy was substitute teaching at Viola Middle School.
In later episodes, Peggy writes her musing for the paper.
In "Glen Peggy Glen Ross," Peggy got fired from the newspaper company.
Ad blocker interference detected!
Wikia is a free-to-use site that makes money from advertising. We have a modified experience for viewers using ad blockers

Wikia is not accessible if you've made further modifications. Remove the custom ad blocker rule(s) and the page will load as expected.