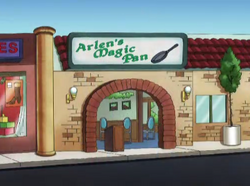 Arlen's Magic Pan is a restaurant located in Arlen. It is a French style restaurant which specializes in sandwiches and crepes.
Appearances
The Peggy Horror Picture Show
In the episode "The Peggy Horror Picture Show", Peggy and Carolyn have lunch in the restaurant where Peggy orders a chicken curry sandwich, and Peggy shows Carolyn how to eat without lipstick smearing or coming off.
Hanky Panky
In the episode "Hanky Panky", Hank has lunch with Liz when she ran Strickland Propane, and she tells Hank that she's making him the manager, and giving him a raise.
Ho Yeah!
In the episode "Ho Yeah!", Peggy takes Tammi to lunch at the restaurant in which Tammi doesn't know what to order, so she asks Peggy for recommendations which she personally recommends orders the le crepe suzette. 
Ad blocker interference detected!
Wikia is a free-to-use site that makes money from advertising. We have a modified experience for viewers using ad blockers

Wikia is not accessible if you've made further modifications. Remove the custom ad blocker rule(s) and the page will load as expected.